Reusable water bottles aren't perfect, so?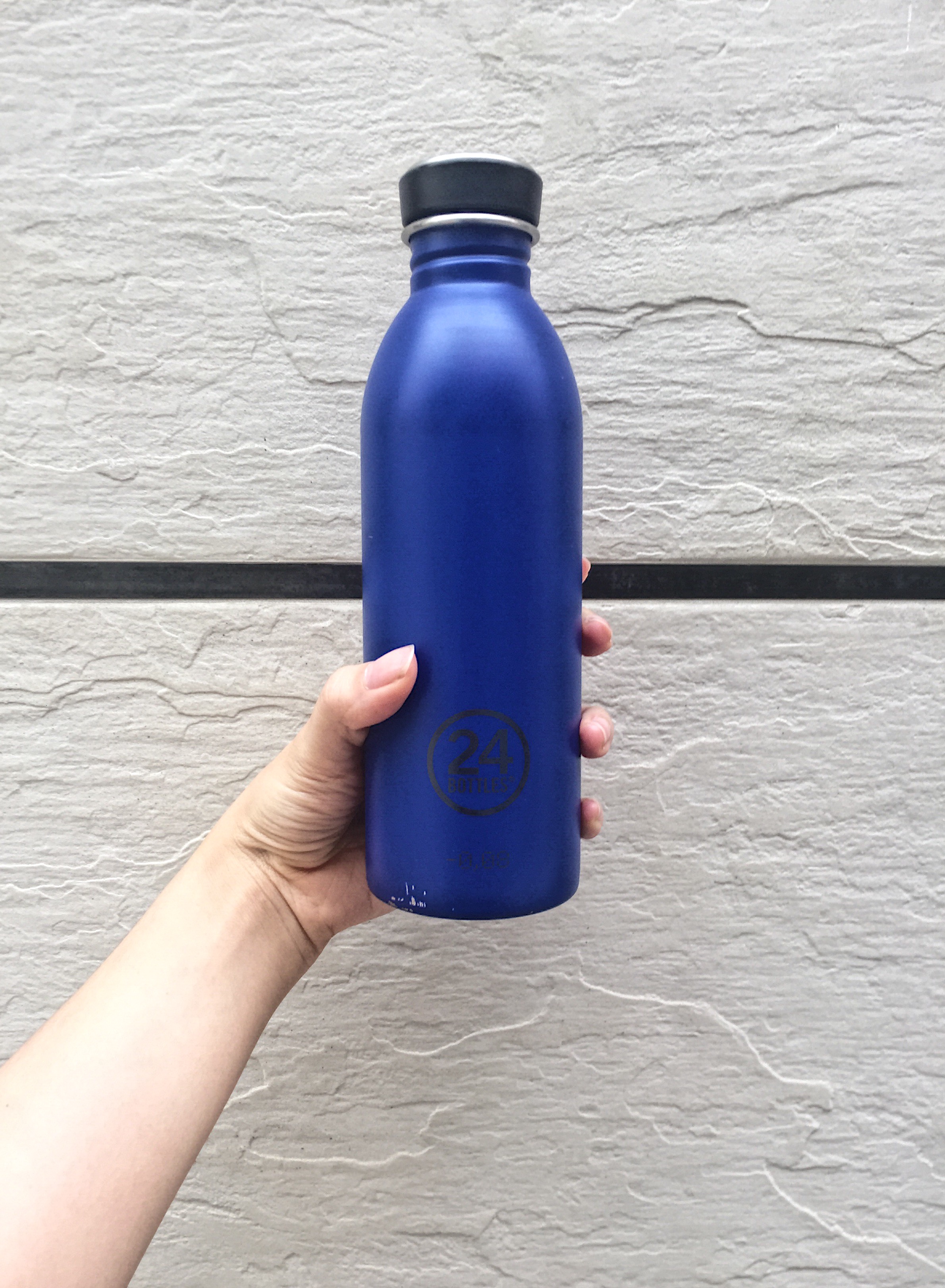 The only reason you aren't bringing your own water bottle is because you haven't found one that you like. Here's a review of this water bottle that I've got for the past month.
This post is originally an IG post but I thought this would be a good one for the blog too!
(*Bring My Own Bottle - lol i just coined this word like 5 mins ago)
The only reason you aren't bringing your own water bottle is because you haven't found one that you like.
Simple math here. I used to buy bottled water from my gym, which accounts for $40 / week and 4 empty plastic bottles in the bin (recycled/trash). Multiply that for 10 people going to the gym 40 weeks in a year, and you get $16k + 1600 bottles. Now this is really interesting - how far do we go for the sake of convenience? At the expense of our wallet & the environment?
I am in no position to do a review of the various water bottle in the market because I have only one water bottle, but here's my review on this 24 Bottle (bought with my own money, think around $200 or less, from CitySuper):
PROS:
Extremely... extremely... extremely light. Lighter than Swell bottles. Mine is a 500ml bottle which weighs 117g.
An equivalent of Swell is 17oz which 0.69lbs translates to 312g. (got this from their website)
Made with stainless steel. So no microcracks with germ residuals, no funky plastic smell. If you've read my previous blog post on plastics, you'll see that no one type of plastic is perfect. So I simply get the easy way out - not use any.
Quite affordable. Just around $200 (getting my money's worth after 5 weeks! Woho!!). Well, at least it's cheaper than than S'well bottles!
CONS:
This is the lightest model which means it isn't layered ('single wall'). It transmits heat really quickly, so if you pour cold drinks in, it sweats in room temperature. If you pour hot drinks in, you might burn your hand. (I tried! 🙈)
The mouth of the bottle is the silver bits that you see. So if your hands are dirty when you touch the bottle mouth, you basically drink the dirt too.
The colour can be scraped off. (As you can see in the photo) If you want to avoid that, you can check out other textures like a complete metallic finish so no scratch marks will show.
Conclusion
This probably isn't as posh or as nice as a S'well bottle that people rock on Instagram or in the gym. But whatever brand or type of bottles depends on your needs - I only needed a bottle for the gym, and I rarely ever drink cold beverage during the workout. If I really needed to keep hot drinks, I have my own vacuum-insulated ones. In that case, all I need is a light bottle that are easily washable & super duper extremely light.
So I'm 100% happy with my purchase. :)
That being said, S'well bottles are double-walled (they call it a triple-walled technology, but I don't really care) meaning they can keep both hot and cold beverages & retain the temperature. (You can find some from @livezero.hk or @plasticfreehk)
There's no one size fits all. There are many options out there - what's important is that you dedicate like 10 minutes to browse through the options to find one that really suits you. I personally find it quite cool to see people bringing their own water bottles!
Until next time!